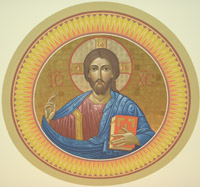 Ceiling artwork was cleaned
"For most of the summer, the church was filled with huge scaffolding! All of the artwork was painstakingly restored or re-gilded, the walls were painted, a new confessional was built, and a decorative wall treatment was done for the Stations of the Cross," says, Father Roman, pastor.
A film of dirt collected in the 30 years since the last major renovation; just from normal use. Restorers use a special cleaner that removes dirt but preserves the artwork. Gilding is done with thin sheets of gold.
The renovations are being done in preparation for the 100 year Jubilee of the Assumption parish in 2008.
| | | |
| --- | --- | --- |
| A new confessional was built | A decorative treatment was added for each Station of the Cross. | Icons were cleaned and re-gilded. |