Our parish Choir "Boyan," under the able direction of Mrs. Alla Korostil, presented a beautiful Christmas-season concert to the parish on December 16. Sounding as strong as ever, Choir "Boyan" moved seemingly effortlessly though classic a cappella Ukrainian carols with precision and occasional power, yet also with warmth and tenderness as the arrangements required. Alla and Stefan Korostil, Nadia Horbatyuk, and Roman Tracz were featured in a beautiful quartet arrangement of Sviata Nich (Holy Night).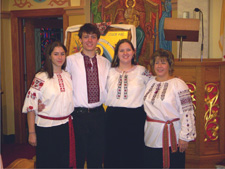 The Quartet for Silent Night
Talented parish youth were also featured. Nicole Baginsky (with her mom Collette) and Alexander Mosko performed in quartet and trio arrangements of "Silent Night" and "O Holy Night" composed by Ms. Anna Lawrence, choir vocalist and the Music teacher at ACS. Younger students performed as "storytellers." They were Melania Wowk, Darko Borsa, Andrew Idak, Taras Horbatyuk, and Christina Hrebeshenko.
The choir had treated parishioners to a tasty light lunch before the concert.
What a pleasant Sunday afternoon at the church!