Now is the time to order your copy(s) of our parish's Centennial Jubilee Book – 1908-2008. There will be no ads in the book, so your purchase is the sole support of this important record of our parish's, indeed your family's, legacy.

Post-production quantities of the book will be extremely limited, so one cannot count on purchasing a book after publishing.

To order: place a check for $75 per book in an envelope, include your name and phone number and either drop it in the rectory mail slot, deliver the check in-person to the rectory or a book committee member, or mail the check to the rectory:

Assumption Parish
Centennial Jubilee Book
684 Alta Vista Place
Perth Amboy, NJ 08861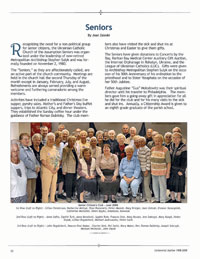 Reminder: If you sponsored a Family Page for $100, you will be receiving one free copy of the book.

Picking up where the hugely-successful 75-year book left off, this full-color book will be packed with history, rare photos, articles about our societies, parish statistics and reference information, family pages, and much more.
As a unique feature, this book will include touching first-hand parishioner reminiscences.

We are targeting the first weekend in December as a pick-up date, just in time to be a nice Christmas present!

Place your order now – so you don't miss out.

Example images shown: Front cover and the first page of the Senior Citizen's Club article.