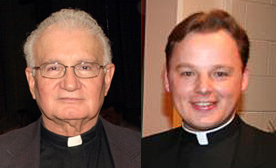 Прощання та Привітання Парохів – Парафіяльний Обід, 12-го Вересня

Як було вже проголошено, наш парох, о. Роман Дубицький ітиме на емеритуру від активного священьства. Витатимемо нового пароха, о. Івана Турика починаючи від 1-го вересня ц.р.

У неділю 12-го вересня буде полудинок / обід щоб відповідно попращати о. Романа та привітати о. Івана.

Того дня відправиться одна співана літургія о год. 10:00. Після ціеї літургії відбудеться обід у шкільній залі.
Просимо всіх хто хоче взяти участь записа-тися на списку щоб ми знали на скільки осіб приготовляти. Вступ на обід є безкоштовний. Розподілятимемо місця при зголошенню. Можна зголошуватися від год. 4:30 поп. в суботу 7-го серпня (перед та після літургії) та в неділю 8-го серпня після літургій. Рівно ж можна буде зголоситися через слідуючі три суботи й неділі у серпні.

Візьміть участь у цьому обіді, попращайте о. Романа та привітайте о. Івана. Це є святкування парафіяльної родини, й ми всім раді!

Father Roman Dubitsky is retiring from active priesthood. We will welcome our new pastor, Rev. Ivan Turyk, as of Sept. 1, 2010.

A luncheon will be held on Sunday, September 12 to bid farewell to Fr. Roman, and to welcome Fr. Ivan.

There will be one liturgy on that Sunday, at 10:00 a.m., with the Choir singing the responses. The luncheon will be held in the school hall following the Divine Liturgy.
There will be no cost to attend the luncheon. All who wish to come are asked to sign up in advance, so that we know how much food to prepare. Seating will be arranged when you sign up. Please sign up beginning Saturday, Aug. 7 at 4:30 p.m. in the church hall (before and after liturgy), and Sunday, Aug. 8 following the liturgies. You may also sign up the weekends of Aug. 15/16, 21/22 and 28/29, following liturgies.

Please come to the luncheon, bid a fond farewell to Fr. Roman and welcome our new pastor, Fr. Ivan. It is a parish family celebration, and all are invited!