Before the Founding
The Earliest Immigrants Arrive – 1883-1907
Ethnic Ukrainian immigrants to the United States began arriving in Perth Amboy from the province of Galicia, Austria-Hungary as early as 1883. Many came from the same towns, and their outlying rural villages, notably, Cherche, Sanok, Peremyshl, Dobromyl, and Lisko, but some came from as far west as Nowy Sacz. These locations are in present-day far western Ukraine or Poland.
Most settled in the northeast section of Perth Amboy on the streets intersecting outer State Street along with Poles, Slovaks, Hungarians, and Transcarpathian Rusyns. This First Wave of Ukrainian immigration was mostly young men, who obtained employment in local factories and railroads, or young married couples. Single young women that soon followed gained employment as factory or garment workers, cigar making, and housemaids. Young adult immigrants soon married and began having families, often large.
The immigrants were Greek-Catholic but worshipped at St. Stephen's or St. Mary's Latin Rite Catholic churches. Beginning in 1897, many Ukrainian immigrants joined the newly-founded St. John the Baptist Greek-Catholic Parish in Perth Amboy but, by 1908, most of the Ukrainians had left to found their own parish.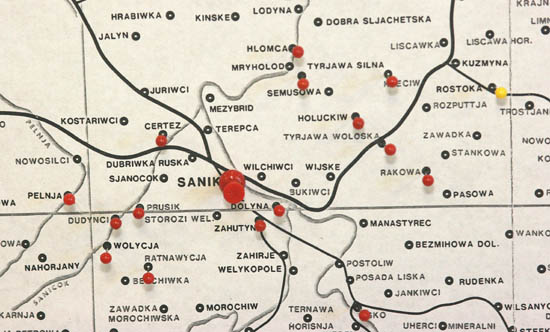 We Have Our Own Church
Founding, Early Progress, Organizing, and Growth – 1908-1924
Sixty-five families consisting of some 200 local Ukrainians of the Catholic faith led by Michael Belniw, Karl Peleshak, Nicholas Waverczak, Stephen Paskewicz, Roman Sedor, and John Hawrylko banded together to establish a parish in Perth Amboy. Parishioners had pooled donations and on September 4, 1908 they acquired the former St. Stanislaus Polish Catholic church and property at 188 Wayne St. A cemetery in Hopelawn was purchased in 1911, a rectory was built, and a hall at 766 State Street was acquired in 1920. Notable benefactors were Stephen Paskewicz, Roman Sedor, and John Hawrylko who personally pledged significant funds.
Parishioners quickly formed many benevolent and service organizations, namely the Choir "Boyan," the Sisterhood of the Immaculate Conception, three Ukrainian National Association (UNA) branches, and a branch of the Providence Association.
Tough Times in Perth Amboy
Growth, but with Internal Turmoil, the Great Depression, and WWII – 1925 to 1945
The parish was growing rapidly but in 1927 the parish committee broke union with Bishop Constantine Bohachevsky for the next eight years. By 1935, the independence movement waned and the parish reunited under Bishop Constantine.
Due to the internal turmoil, the Great Depression, and WWII, plans for parish facility improvements had to be indefinitely forestalled.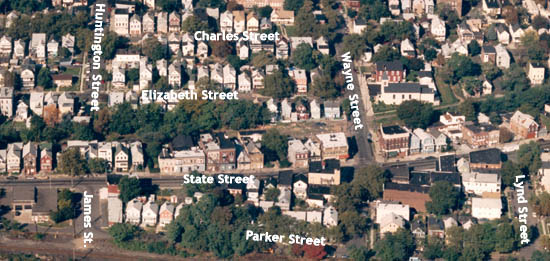 The Halcyon Days
"Everything was new" – A Well Oiled Machine – 1946-1969
Following WWII, an era of economic prosperity reinvigorated parish building plans, parish organizations, and parish life in general. Returning veterans married and a "baby boom" resulted in hundreds of young children — many to attend our school which was founded in 1963.
Forgotten was the turmoil of the past. The parish was strongly united behind progressive Pastors Shuchowsky, Gabro, and Sulyk and a fresh wave of Ukrainian immigrants was welcomed to the parish after WWII. With these positive factors, the parish reached its peak of progress, influence, and membership in the 1950s and 1960s. The parish built the present church (1952); rectory, now the convent (1954); school (1963); rectory and its adjacent shrine (1967); and the cemetery shrine (1969).
The High Plateau
Societal Pressures and Demographic Realities Intrude – 1970-1982
By the early 1970s, signs of a changing America had been showing for two decades. Our parish was not immune to societal changes and, in fact, has held onto its traditional expression of faith and ethnicity more strongly than most other ethnic groups.
Firstly, society became more affluent and more mobile. No longer did most people feel compelled to remain in the town of their upbringing.
Secondly, marrying outside of one's ethnic group or religion markedly increased after WWII in almost all American ethnic groups.
Thirdly, with observance of religious traditions becoming less fervent, and with new diversions and entertainments emerging, the parish, per se, became for many, less of a focal point of one's life.
Fourthly, the 1950s and '60s were a time in America when anything new was perceived positively and old things were considered dowdy. Outside of ethnic communities, ethnic heritage would not be in fashion until the nostalgia and folk arts movements blossomed in the 1970s.
Notably, however, the parish had a significant number of dedicated members to keep the parish progressive, active, and vibrant well beyond the peak decades.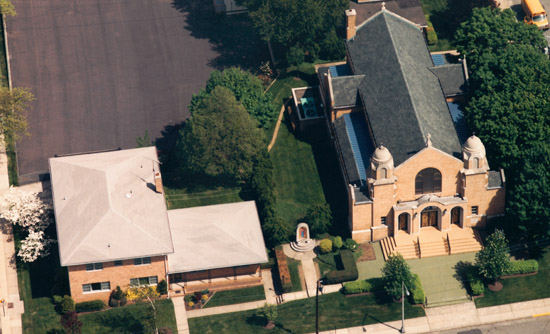 The Solid Core Carries On
An Amazingly Active Parish on a Smaller Base – 1983-2009
In 1983, our parish celebrated its Diamond Jubilee and looked back at our joys, hardships, and achievements. The celebration was conducted by parish organizations mobilized under then-new pastor, Father Roman Dubitsky.
This "good spirit" carried on for decades – aided by the pastoral stability and leadership Father Roman provided during this entire era. As in the past, parish organizations contributed heavily.
As Ukrainians moved out of the urban areas, a sister parish, St. Stephen's, was founded in Toms River, NJ. As our parish buildings aged, a series of major building and property renovations were carried out from the late 1980s to the 2000s.
Beginning in the early 1990s, we welcomed the Fourth Wave immigration from Ukraine. Currently, the Fourth Wave makes up almost a third of Sunday congregants.
After 100 years of serving God, a solid core of dedicated, hard-working parishioners has kept our parish active up to our Centennial Jubilee celebrations, and beyond.