Articles
Another Successful Parish Festival!
Published: June 26, 2018
Print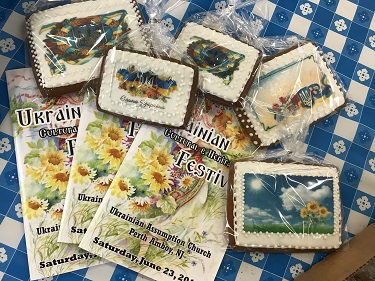 On Saturday, June 23, 2018  the Assumption Parish in Perth Amoy, NJ held its 6th  Annual Ukrainian Cultural Festival on the grounds of the parish. The Festival was a huge success, thanks to the hard work of our volunteers, the support of our sponsors, and the joy and energy of everyone who attended. We are truly blessed at  Assumption parish to have so many parishioners who give of their time, talent, and treasure to support us. We estimate that well over 1000 parishioners and guests joined us for a fun-filled day that included delicious homemade Ukrainian food and deserts, Ukrainian beer, a church tour, a Beautiful Baskets raffle, money loterey  and more.

This year our parish was honored with the presence of Wilda Diaz, a mayor of the City of Perth Amboy and His Excellency Bishop Andriy Rabiy, the Apostolic Administrator of the Ukrainian Archeparchy of Philadelphia, PA who visited the festival for the first time. Thank you again to all that attended and supported the Festival, and we are looking forward to an even bigger and better event next year.