On Saturday, June 21, 2014 beyond our expectations, the church grounds of the Assumption Ukrainian Catholic Church in Perth Amboy, NJ swelled with neighbors and those who traveled quite a distance, primarily Ukrainian-Americans, but mostly non-Ukrainians, to appreciate Ukrainian culture, crafts, foods and entertainment at our second Parish Festival.
Throughout the sun filled day, more than 1000 guests, including Congressman Frank Pallone, could be seen enjoying themselves, eating the delicious Ukrainian food, and there certainly was plenty for everyone, listening to lively Ukrainian music, socializing with friends and neighbors, and enjoying the entertainment of our incredible Ukrainian dance performances.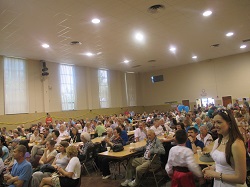 People came to the Ukrainian Festival for a variety of reasons, and one of the biggest attractions was the food. It seems everyone loves Ukrainian home made food. Everywhere, people gathered at indoor and outdoor tables eating pyrohy, holubtsi, shish kebab, hot dogs/hamburgers and kovbasa. There were delicious homemade cakes and pastries. Also offered were a variety of special Ukrainian beers, bottled water, soft drinks, tea and coffee, at the indoor and outdoor bars. Adding to the festivities, guests were entertained by a live band, plus a fabulous concert presented by Ukrainian Dance Groups from Perth Amboy, Jersey City and New York City. Visitors also had the opportunity to tour our beautiful church and see how we worship our Lord. Other attractions included children's corner, face painting table, gift basket raffle, money raffle and vendors.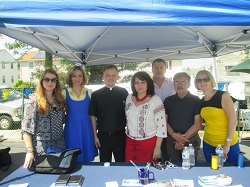 Our Festival was a huge success, thanks to the incredible work of so many volunteers. Thank you to everyone – festival committee, volunteers, ad booklet organizer, ladies who baked, decorated the hall and were in charge of raffles, setup and cleanup crews, sponsors, parish school FSA, parish secretary, teachers, guests and neighbors – who helped make the festival a great success!
Special Thanks goes to the ACS Faculty: Mr. Michael Szpyhulsky – Principal, Sr. Yosaphata and Sr. Thomas, Mrs. Bernstein, Mrs. Lawrence, Mrs. Derevenska, Mrs. Lojko, Miss Makar, Miss Anna Lawrence, Mrs. Pickering and a former ACS teacher Mrs. Linda Rizkallah for their hard work during the festival.
It was amazing to see so many people enjoying the day together! It was also wonderful to know that we have so many hardworking parishioners and school parents who are doing their best to help keep our church and school financially stable.
There were many men and women who helped in some way to make our first festival possible. Those that couldn't help at the event baked cakes, donated money, helped spread the word through advertising, hanging posters, etc. Others gave up their valuable free time to make traditional Ukrainian food by working many days in a row cooking and serving food.
As your pastor, I was so proud to see so many people working together as ONE PARISH FAMILY. It was another proof that Assumption Parish Community shines when we all work together as one family!
Please, check out pictures from our festival at www.assumptioncatholicchurch.net/azcms/gallery.php